So its been a long time since i've been on the forum....been crazy busy summer and winter along with raising our now 2 year old girl....man does time fly!
Anywho....I no longer have my 06 F350, had a change with work over the summer and had to go to a van. So for the last 6 months i've been driving this....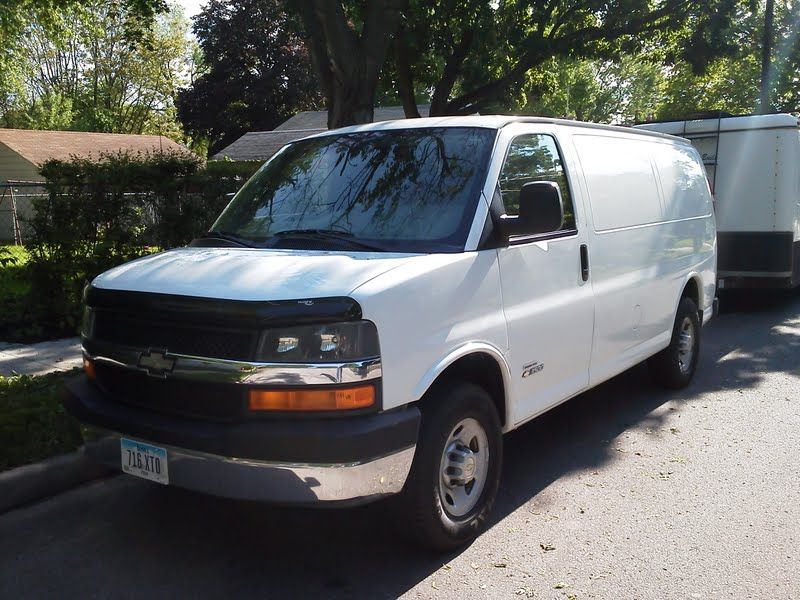 Its an 06 Express 3500 with a Duramax Diesel.....so I figure it still counts as an HD??????
I will be doing an upgraded downpipe along with 4" exhaust and some EFI Live tuning come this spring. I plasti-dip'd the badges, bumpers, chrome grill and wheels. And it now has Cooper S/T Maxx A/T tires on it...(gotta beef it up a bit)
Also just added some tow mirrors...
Pic with Mirrors installed....
I always said I would never own a Van or a Chevy.....dang Karma came a got me!
All in all I am very pleased with it, the Duramax is a smooth running unit! i average 15mpg between city/highway and 90% of the time I have a 12' dump trailer on behind it so I am very pleased withe the economy!
__________________
2006 Chevy Express Cargo Van
6.6 Duramax
Stock - For Now
Sold
2006 F350 CC LB 4x4
MBRP - SCT X3 Vivian Tuned - Glowshift - Insight CTS - Sinister Coolant Filter -20 x 10 Moto Metal 957's - 295/60/20 Nitto Trail's - Vortex Liner - B&W



2002 F250 CC SB 4x4
International T444E Power
Bullydog 6 position chip